The aim of the Art Nouveau movement was to arouse a sense of beauty in the general public by designing buildings and objects for everyday use. The movement started at the turn of the 20th century and quickly spread from Paris, Munich, Vienna and Berlin throughout Europe. It was called Art Nouveau in France, Belgium and Scotland, secession in Austria, Jugendstil in Germany, Liberty in Italy, and Modernismo in Catalonia.
The movement created a characteristic style of architecture, which no longer imitated eclectic styles of Gothic, Renaissance, Baroque and classicism, but developed an original language of form. Instead of drawing on the history of architecture, the Art Nouveau principles of design drew on nature, plants, animals and earth forms. It can be recognized by its stylized plant movements, irregular organic forms, profiled lines and curves, colourful patterns and combinations of different materials such as glass, wrought iron, copper and ceramics. Opposite the flowing lines and exuberance of organic forms, we have rigid geometric patterns, quadratic grids, and black and white combinations, producing variations of forms, which became characteristic of the new style.
In addition to the departure from historical styles, Art Nouveau artists strived to create freely without any constraints of art forms and academic institutions. The result of this artistic autonomy was a multiform style, which because of its diversity, remained open to interpretations by the architects. The pluralistic language of Art Nouveau encouraged many architects at the time of the Spring of Nations to search for a national style, and opened various pathways to modern architecture.
– Janez Koželj Introduction to Photographic Exhibition on Plečnik Rsplanade in 2011:
SECESIJA Architecture and Photography – Art Nouveau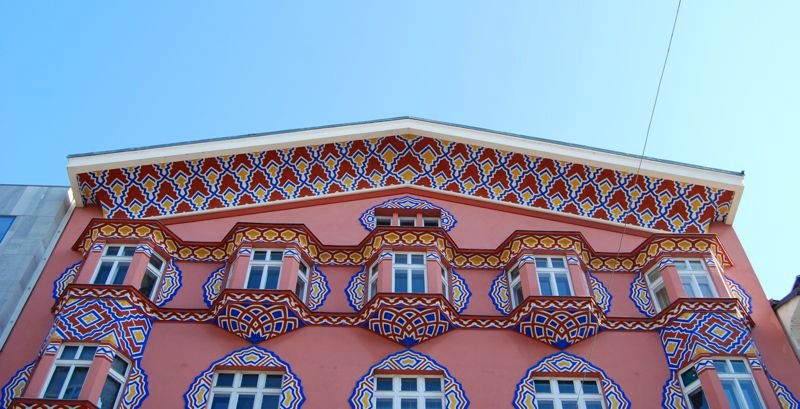 Comments
comments