John Kodrič has pursued the love for painting for over twenty-five years in Australia. He was born in Brje, Dobravlje, Slovenia in 1941 and settled in Australia permanently in 1960. John studied art while working in New Zealand before he made the decision to stay in Australia. Since childhood John had a love for art, and came to paint prolifically for years. The formative years were spent living on a farm in the famous wine-growing Vipava Valley, in southern Slovenia.
Experience of a traditional farm life in Slovenia, had a significant impact on his life path. John gained insights into the close relationship between man and nature. He studied watercolours at VAS for three years, and found a true passion in oil painting. A natural talent, distinguished with beautiful, delicate landscapes of the Australian outback, Melbourne cityscape and seaside, he studied art and completed a diploma in visual arts at the Victorian University of Melbourne.
The exhibition shows technical advance in the study of Contemporary Realism, Surrealism, and also love for the Australian landscape. John is a member of the Victorian Artist Society and Contemporary Artist Society. He has held many solo and participated in group exhibitions in Australia, Canada, Italy, New Zealand, and Slovenia. In Slovenia his work was shown in 1996 at Grad Dobrovo – Gallery of Zoran Mušič, and in 2001 at Grad Branik. His work has been collected by: the Victorian University, Parliament House of Dublin of Ireland, German Embassy, Electricity Commission, Energy Chemical Katsuo Kojima Japan, and by the Ministry of Foreign Affairs, of the Republic of Slovenia. He exhibits regularly throughout Victoria and his paintings can be viewed at Slovenian organizations throughout Australia.
In 2009 John was awarded with four first prizes in watercolour at: Exhibition of Victor Harbour, Rotary Club of Numurkah, Quenos Art Show, Altona and Ballan Vic Today. Works can be found in private collections in: Australia, United Kingdon, New Zealand, Slovenia, USA, France, Italy, Germany, Israel, and Japan.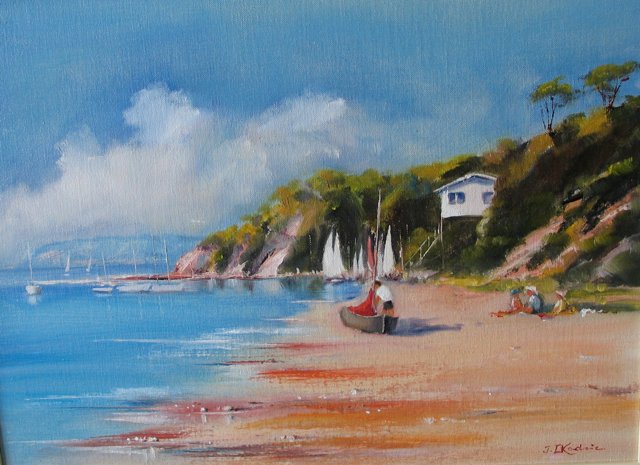 Comments
comments