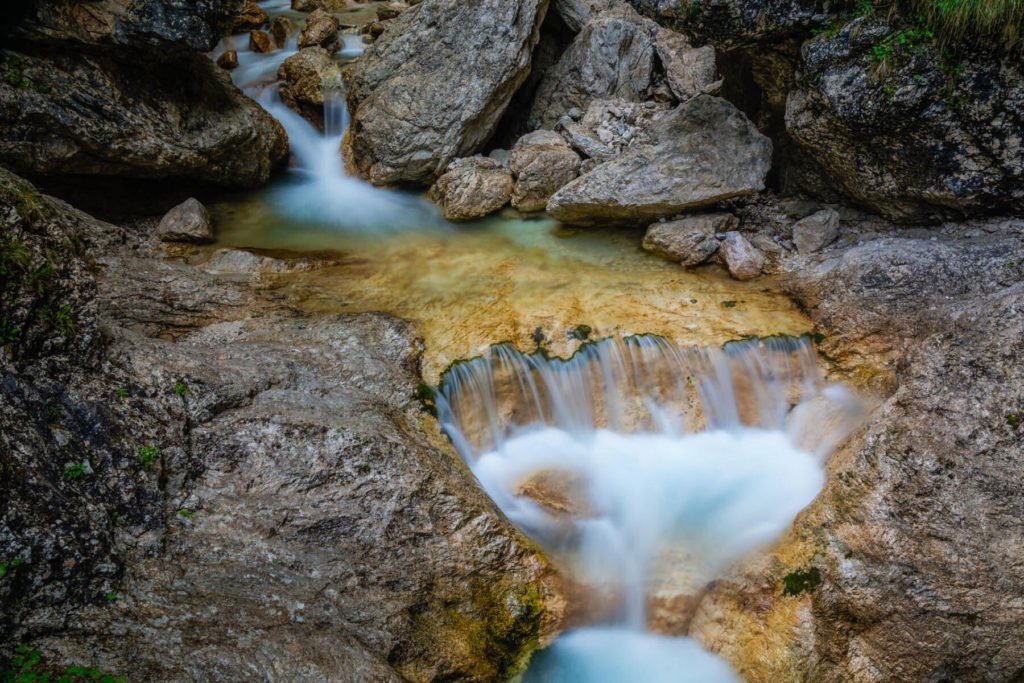 Pripovedke o rekahThese are two widely known Slovenian folk tales about major rivers of Slovenia. The tale about the Drava River gives an account how rye and wheat grain were brought to Slovenian lands. The second tale compares the character of the three rivers.
Pravljica o Dravi
Bilo je v tistih časih, ko naši pradedje rži in pšenice še niso poznali. Tedaj je živel ob Dravi na Koroškem zelo bogat ribič. Vse svoje premoženje si je pridobil s tem, da je pridno lovil ribe v Dravi. Poln hvaležnosi je nekega dne vprašal Dravo: "Mamica Dravica, s čim naj ti povrnem, ker si mi pomagala do blagostanja?" Drava je na to odgovorila: "Pojdi daleč po svetu. Tam v daljnjem kraju najdeš ljudi, ki imajo bel in ržen kruh; od vsakega mi po en hlebec kupi in mi ga prinesi!" Ribič se je odpravil na pot in prišel v bogate in lepe kraje. Ljudje so tam jedli, česar on ni dotlej poznal: lep kruhek. Kupil je dva hleba, kakor mu je Drava naročila. Ko se je vrnil, je vrgel hleb pšeničnega in hleb rženega kruha v Dravo. – Nato je začela Drava naraščati in je poplavila ves levi in desni breg. Ko pa je voda odtekla, je pričela zemlja odganjati lepo rž in rumeno pšenico. Tako so ljudje dobili seme in povsod so začeli sejati rž in pšenico.
Vocabulary/Besedišče
Drava, n., Drava River
pradedje, n, n., ancestors
poznati, v. inf., to know
tedaj, adv. then, at that time
na Koroškem n., in region of Koroška
ribič, n.m., fisherman
daleč, adv., faraway
hlebec, hleb, n.m., bread loaf
po svetu n.m., around the world
ljudje, pl., people
kruh, kruhek, n.m., bread
tako, adv., thus
dobiti, v.inf., to get
seme, n.n, seed
sejati, v.inf., to sow
Questions/Vprašanja
Kaj niso naši pradedje poznali?
Kdo je živel ob Dravi?
Kaj je bil njegov poklic?
Kam naj ribič gre?
Kaj bo našel v daljnem kraju?
Kaj naj ribič kupi?
Kam je vrgel pšenični in rženi hlebec?
Kaj se je zgodilo ko je voda odtekla?
Activity
Explain in your own words what the story is about in English or Slovenian or prepare a script for a play.
Translation of the tale in English
Drava, Sava in Soča
Drava, Sava and Soča so sestre. Nekdaj so se menile, katera bo prihodnji dan pritekla prva v morje. Zvečer sta Sava in Soča zaspali. Drava pa se je potuhnila in kmalu začela tiho teči naprej. Ko se je Sava zjutraj prebudila, je opazila, da se Drava že vali proti morju. Zato se je tudi sama jezno spustila v uren tek. Nazadnje se je prebudila Soča. Ko je videla, da sta jo sestri ukanili, je predrla na nasprotni strani s silovito močjo gorske stene, se srdito zagnala skozi skalnate soteske in dospela prva v morje. In tako je še danes: Drava se vali tiho in potuhnjeno, bistra Sava dere, a obe napajata Črno morje, Soča pa urno bobni skozi ozke skalnate struge goriških gora v Jadransko morje. In odtod narodni pregovor: Drava se je po dolini vdrla, Sava je vodo po ravnini vsula, Soča se pa proti jugu suče.
Vocabulary/Besedišče
meniti se v.inf., to discuss
nekdaj, adv., once upon a time
teči, v.inf., to run
pritekla, (priteči inf.) to arrive by running
se je prebudila, v.(prebuditi se v. inf.), to awaken
uren, adj. m., brisk, lively
tek, n.m., run, course
ukaniti, v.inf., to trick
predreti, v.inf., to crash through
gorske stene, n.pl., mountain walls
srdit, srd, n.m., rage
zagnati se, v.inf., to crash into
dospeti, v.inf, to arrive
bistra, adj.f., lively, pristine
Črno morje, n.n., Black Sea
skalnate struge, n.pl., rocky river beds
Jadransko morje, n.n., Adriatic Sea
odtod, adv., from this, this is the origin
Questions/Vprašanja
Kaj so se tri sestre reke menile?
Katera je stekla prva?
Ko se je Sava prebudila, kaj je opazila?
Katera reka je tekla hitreje, Drava ali Sava?
Kaj je videla Soča, ko se je prebudila?
Kaj je napravila?
Kako teče vsaka reka?
Katero morje napajata Drava in Sava?
V katero morje urno bobni Soča?
Activity
Locate the three rivers on a map of Slovenia.
Research the river system of Slovenia, or one major river.
Give a talk or presentation.
Translation of the tale in English
Resources
Ministry of the Environment and Spatial Planning http://www.mop.gov.si/en/
Landmarks of Slovenia http://www.burger.si/
Waters in Slovenia, by Jože Prešeren, journal: Sinfo, April, 2007
http://www.ukom.gov.si/eng/slovenia/publications/sinfo/2007-april.pdf
Geografija Slovenije http://sl.wikipedia.org/wiki/Geografija_Slovenije
Wikipedia http://en.wikipedia.org/wiki/List_of_rivers_of_Slovenia
Updated 26 January 2012
Comments
comments