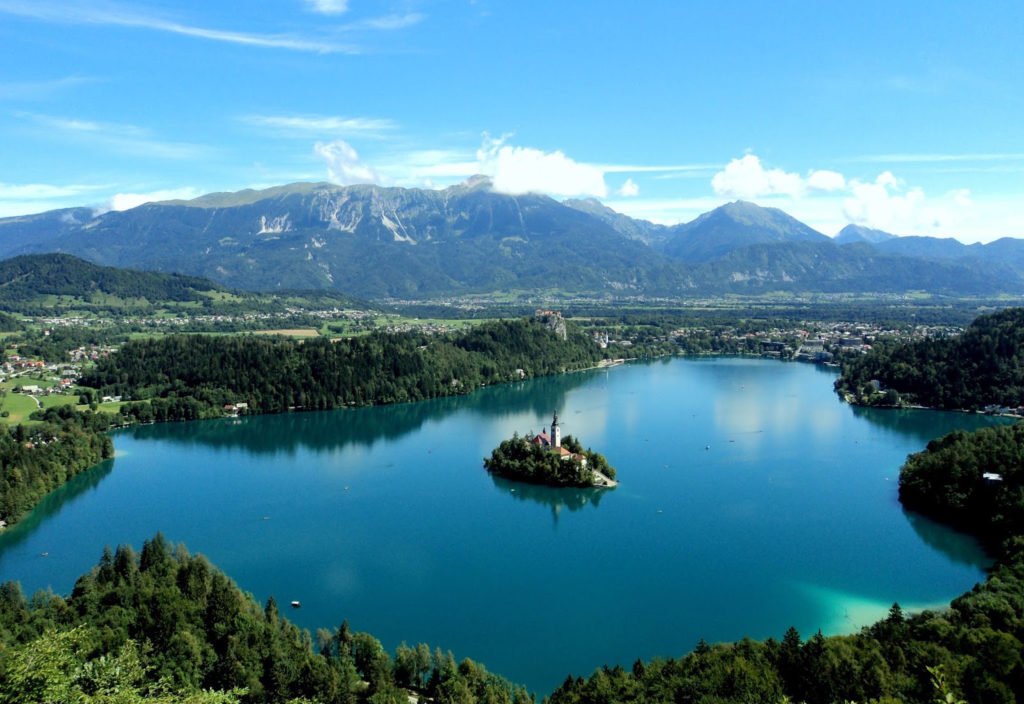 Legend of the Slavic goddess ŽivaBled is Slovenia's prominent resort area; located in the north-west region Gorenjska at the foot of the Julian Alps. Nestled in spectacular scenery, it is remarkable for the striking emerald-green lake with the tiny island, Blejski otok, the site of the church, Church of the Assumption.
There are many historic and natural attractions to engage the visitor. The Bled castle was built in the sixteenth century and houses an exhibition of the history of Bled, containing artefacts of Slavic settlement in the seventh century. Traces of human settlement have been found from the Stone Age, and 80 graves were found dated in the late Iron Age.
The Church of the Asssumption on the island can be visited daily by taking the traditional boat with oars. It was rebuilt in the seventeenth century, originally a site of ancient settlement, dated at 11th to 8th century BC. Excavations of the island church site reveal pre-Christian ritual burial ground from the early Middle Ages there are 124 graves with skeletons.
Bled is the subject of myths and legends, particularly of the Slavic goddess Živa and her priestess Bogomila. France Prešeren referred to the goddess in his epic poem Krst pri Savici (Baptism at the Savica Waterfall) of 1836. The nearby Vintgar Gorge is a winding ravine of 1.6 km. of great natural beauty and overlooks the Šum waterfall. It is considered as one of the important attractions in the country.
Tourist services include: a camping area, hotels, a thermal swimming complex, curative waters, tours and walking excursions, galleries and recreational activities such as golf, rafting, canyoning, swimming, horseriding and hiking. Bled provides facilities for conferences and is the home of The Bled School of Management
Panaromic views of the area are in Boštjan Burger's Landmarks of Slovenia
Learning activities
Activity: 1
Text-type: postcard, letter
Linguistic element: conventions of letter-writing
Send an e postcard, or letter from Bled, to a friend or relative about your holiday at Bled.
http://campingbled.s5.net/ang/izleti.stm
Activity: 2
Text-type: registration form
Linguistic element: vocabulary of personal data, and dates
Complete the online registration form to book accommodation at the Bled camping site.
http://campingbled.s5.net/ang/izleti.stm
Activity: 3
Text-type: talk
Linguistic element: conjunctions
As a tour guide in Bled, give an introductory talk about Bled to a tour group.
http://www.bled.si/
Activity: 4
Text-type: interview
Linguistic element: interrogative pronouns
Interview staff at a tourist agency in Bled, about services and tours offered to see Bled. Select an agency from the web directory, Matkurja, the virtual guide to Slovenia
http://www.matkurja.com
Activity: 5
Text-type: brochure
Linguistic element: nouns – declension
Design and write the text for a brochure on points of interest and attractions of Bled.
http://www.bled.si/
Activity: 6
Text-type: article
Linguistic element: verbs – past tense
Write an article about Bled today: its history, cultural heritage, natural and touristic attractions.
http://www.bled.si/
Comprehension – Reading and Responding
Read the text   'Šport in rekreacija'   from the web site, Bled
http://www.bled.si/index2.sxp?menu=15&lang=1
Answer the following questions in English.
1. Which summer sports are listed in Bled, and what facilities are available?
2. Which places are suggested for cycling trips?
3. Which water sports are available?
4. Where is swimming and diving offered in Bled?
5. When are the rowing regattas held?
6. Where are the walking paths around Bled?
7. What are the destinations for ski-touring?
Comments
comments